Vehicle Info
Vehicle:
2011 BMW E92 M3
VIN:
Exterior:
Alpine White
Interior:
Black Novillo Leather
Miles:
33,786
Trans:
6 Speed Manual
Engine:
414hp, V8, 4.0-liter, 8400-rpm
Tires:
FRONT: Continental ExtremeContact DW (245/30 ZR20 90Y)
REAR: Hankook Ventus V12 Evo (295/25 ZR20 95Y)
Packages:
Convenience Package, Premium Package 2, Power Rear Sunshade, Heated Seats, Smartphone Integration, Premium Sound. *** Full details of each package and original sticker in the Images (Latest) section at bottom of page ***.
Project Info
Our beloved E92 M3 show car is officially up for sale. This car has been absolutely amazing the past couple years though we are moving on to our next project car this summer and it's ready for a new home. Anyone who's seen our project E92 knows that it's one of the cleanest around. With tastful mods, and nothing but the highest-quality parts and installers used.
We have to give a huge thanks and shout out to Lewis and the guys at MWDesign who helped us coordinate and put this entire build together over the past couple years. www.mwdesigntechnik.com
As you can imagine we've taken thousands of pictures of this vehicle.
Here's a link to our Flickr profile which has images of the car and many of the events we've attended across the Southwest.
CarNinja on Flickr
Key Notes
Single Owner. We are the original owners. Ordered via Irvine BMW Dec '10. Arrived late Feb '11.
Non-smoking. This vehicle has never been smoked in whatsoever.
Still under manufacturer warranty and extended available for purchase via BMW
This is a company project car / promotional show car. There have only been a couple people allowed to transport and has been very well maintained and taken care of. It hasn't been beaten all to hell :). All service history and records available.
Vehicle is in perfect working condition.
Contact Us
Interested? You can reach us by shooting an email to e92@carninja.com
Part out offers see mods section below
Location
We are located in Orange County, CA
This vehicle's AutoCheck Score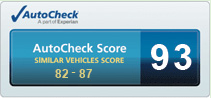 The AutoCheck Score is a summary of your vehicle's history. It lets you compare similar vehicles with ease.
About the AutoCheck Score
This vehicle qualifies for Buyback Protection
Safeguard your investment with AutoCheck Buyback Protection. It reduces the risk in buying a used vehicle.
About Buyback Protection
Shows & Events
This project has been exhibited / featured in:
Our goal is to sell this car with all mods included, though if you have a strong offer for one of the parts we have listed in the mods list below as a part that we are willing to part out, please feel free to make an offer. Offers will be entertained in a few weeks if available. No lowball offers.
Exhaust Video
Compilation of exhaust note shots with current setup. Stock E92 engine. Exhaust setup: Mastermind Race X-Pipe (Primary + Secondary Cat Delete + Resonator Delete) + Akrapovic Titanium Slip-on w/ CF tips.